Overview of Route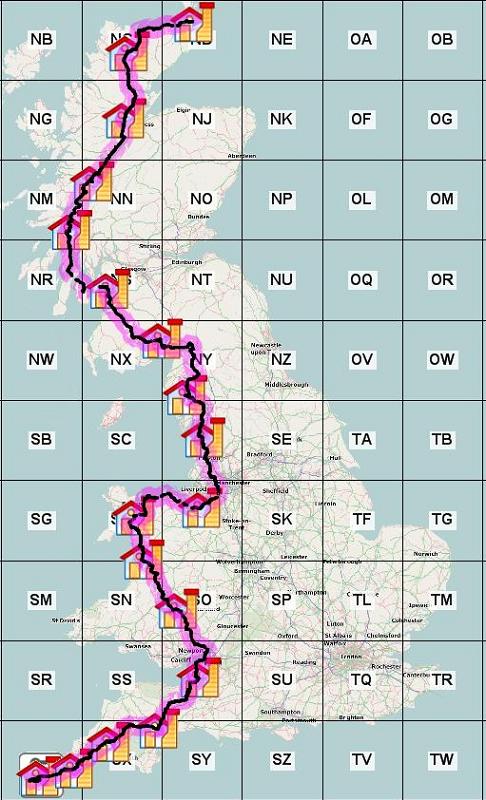 There are several well defined routes that people take when doing this trip but not many make the diversions necessary to tackle the Three Peaks at the same time. These add significantly to the distance and also to the choice of short walk with steep roads or easier road sections but longer walks to the hills. Scafell Pike is a good case here where the 18km walk is much longer than the Wasdale Head approach but it does avoid the 1 in 4 climbs on a bike of Hardknott and Wrynose passes!!
The route has been chosen to make quite a bit of use of the National Cycle Network routes but as these tend to concentrate on scenic splendour rather than practical distance between places we have often gone for a more direct route. Some of the sections follow a route taken by others who were in more of a hurry but then modified to give less hectic roads where they chose busy A roads. We have some quite heavy days getting to Snowdonia with quite long distances between stops and some very hilly country. I hope that by Day 5 we will be into the groove and able to cope with those distances and ascents. We have opted for a route via Arran to get to Fort William to avoid the race tracks of the A82 and A85 as, although there are good cycle routes up to Glasgow and then to Loch Lomond from Carlisle, there is no sensible alternative north of Loch Lomond to get to Fort William.
The planning was done initially using Mapometer but I the discovered
Ride With GPS
and found it infinitely better. This web based system is probably the best free route planning and logging software going and it is able to do a lot more if you are willing to pay a bit each month. The
Sustrans maps
are also a very useful reference to have to see where the various bits of the NCN routes go and where they can be accessed.
All the GPX files were downloaded to my Garmin Oregon 450 that came with the whole of the UK 1:50,000 Ordnance Survey maps. A word of warning here and that is that the cycle routes shown on these maps are often wildly different to what Sustrans shows on their maps (the Sustrans version is generally correct although their signage is not always in place). I will try and get around to describing the way I used the Oregon 450 for the routing when I get the time.