Day 4. Wednesday, 01/06/2011: Exeter YHA to Cheddar YHA
Actual riding distance 122km. Ascent 557m. Total distance 399km. Total ascent 4361m.
Today was a day of contrasts with busy traffic and poor signing in Exeter and Taunton and delightful riding on the tow paths of the Grand Western Canal and the Bridgewater and Taunton Canal. We also ended up quite a way off course after my route and NCN 3 went in different directions after Bridgewater and we followed the NCN 3 signs but at a vital road junction they were missing. C'est la vie!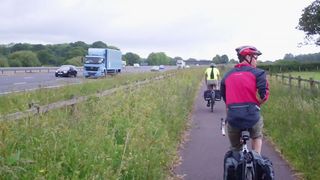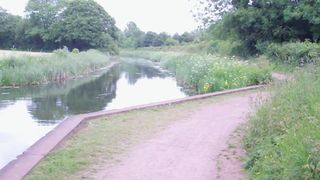 Departure from Exeter was along the side of the old Exeter bypass. There were cycle lanes on both sides but also slip roads coming off it that took the cycle track off as well. What we could't see was what happened further on so we changed sides of the main road only to have the same thing happen again. We did persevere and found a series of bridges that took us over these slips and eventually led us north along our desired route. This was the old A38 and whilst it had been demoted to the B3181 it was still quite busy so it was a great relief to turn off at Willand following the NCN 3 towards the Grand Western Canal. We had tea and cake at a golf course cafe at Sampford Peverell before joining the canal towpath. Dead level riding was quite a novelty after the hills of Cornwall and other parts of Devon. This was riding at its best with sunshine, a gentle tail wind and a generally good surface.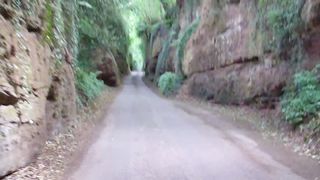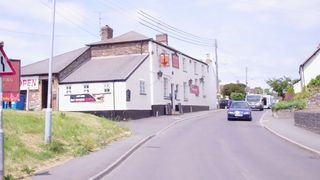 All good things come to an end and we left the canal to climb over the divide near Wellington. Our route took us through the remarkable gorge of Nynehead Hollow which looks like it has been carved out of the rock by man rather than by nature (which it later turned out was how it was created). Lunch time was approaching and a pub in Bishops Hull looked promising but after getting our helmets etc off and getting into the pub, the landlord who had been watching us all the time announced he wasn't doing food. We went in to Taunton and found another and again no food so we departed the city hungry. Our route took us along the Bridgwater and Taunton canal and at Creech St Michael we investigated the possibilities and found a great pub a little way away that served great food. Next door was a Spar that provided hayfever tablets for me and Bonjela for Neil for his toothache.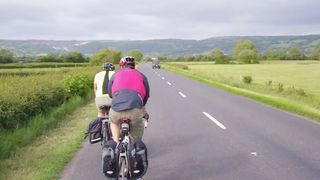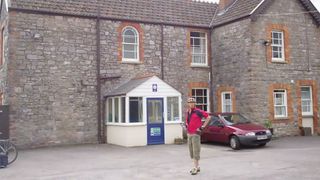 When we left the canal in Bridgwater we followed NCN3 rather than my planned route which was the original cycle route but south of Stawell a juction was not marked and we went a lot further east and south than we needed to. Once we discovered our situation the routing function of my GPS proved invaluable as I was able to tell it to take us to Cheddar YHA which it duly did. Ron was in need of food and drink by this stage but a pub that was advertising cream teas failed to live up to its promise as it was shut up too. We made it to Cheddar nonetheless and dined at an Indian as Ron was hankering for a curry. Tomorrow we will have a change of route and go up the gorge to start with before turning north west to pick up our original route. This will add about 7km to an already long day. We will be meeting Frances and Gareth for lunch somewhere along the way.