Fraser's bit
Why?
I had thought occasionally about doing the end to end trip and figured that I would maybe do it to mark something special. That was likely to be either when I was 60 or when I retire. When Ron phoned me out of the blue a year or so back and asked if I had ever thought of doing the trip I explained my thoughts and when he said he wanted to do it I agreed immediately. The date was set for summer 2011 as that would mark my 60th birthday and also give us time to plan the trip and get accommodation booked. It would also allow a reasonable training period to get event fit and, more importantly, allow time to determine what things needed to be taken with us. When Neil heard what we intended doing he said he would like to come along as well. Having decided on when, it seemed sensible to consider what organisation(s) we could collect sponsorship for. As a Civil Engineer I recognise the significant contribution that civil engineers can make to the health and welfare of people caught up in disasters or where they live without the basic necessities of access to clean water and sanitation. As a result I have taken part in four sponsored walks for Wateraid in the past. The first was a comparatively simple walk over two Munros, the second over four Mumros, the third over seven Munros and finally culminating with the last trip being a
three day epic into the Fisherfield and Letterewe forests to tackle Scotland's most remote Munro and three Corbetts
. I also organised a sponsored bike ride for RedR last year that raised well over £2000. It therefore seemed logical to support these two charities again with the hope that we can raise a similar figure for each of them.
How?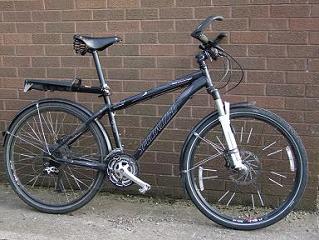 My main training bike is a Specialised Rockhopper Comp Disc that I use for commuting to work. It's clocked up over 10,000km over the three and a bit years that I've had it. I received a Brooks Flyer Special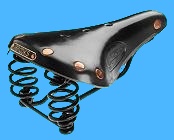 for Christmas 2009 that spends most of its time on the Rockhopper. When I use the Kona it has to get swapped over - a task that is made much easier by the micro adjust seat posts on the two bikes. The saddle took a while to bed in but it is quite comfy now. I recently overhauled this bike to correct problems with sticking brake pistons and to replace worn chainrings. I use three chains in rotations of about 200 miles at a time to reduce the wear and tear on the chain and cogs but with the salt and sand on the roads over the winter and mud at various times of the farming calendar the transmission still suffers over time. With the new bits the bike is now flying and my cadence and heart rate, monitored by my Garmin Oregon GPS, are getting better all the time. I can now generally spin in the high 80s, 90s and even into the 100s after a while into a journey. The difference in hill climbing is quite noticeable and I would imagine that the chain is relieved not be working under such large forces as it used to. My best combined return trip to and from work used to be an hour and 5 min but now stands at fifty
five
four
*
and a half minutes for the 24km and over 300m of ascent.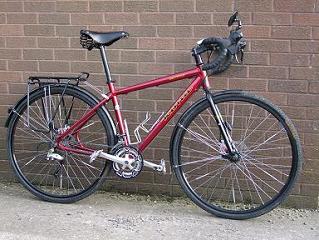 The bike I will use for the ride is a Kona Dew Drop. It's not the lightest of bikes but it did come with disc brakes which are just wonderful in the wet. I think it would be very difficult for me to go back to rim brakes now after riding with discs for so long. The Kona is fitted with a Topeak rack to carry a Topeak rack bag and also Ortlieb Classic roll top rear panniers. I'm undecided on the need for my handlebar bag on the ride. Pros - handy to have things easily getatable in the bar bag; easy to take off and carry into cafes etc. Cons - Additional drag; gets in the way of my GPS and light. Probably will go with just the rack bag and panniers. Training rides in April will confirm the choice. I decided during my ascents of the Lecht and Cairn o'Mount on a three day training trip with Ron last summer that smaller gears would be better. The original 52/42/30 chainset has now been replaced with one with 48/38/26 rings for those hills that have chevrons pointing towards me! If I can't get up them with the smallest gear then I'll just have to get off and walk (but I can't see me letting that happen). It also sports my now comfy Brooks Flyer Special saddle when I have taken it off the Rockhopper. It really would be better to have two saddles but the changeover is relatively quick and easy. I seemed to cope quite well on it on my three day trip last summer. I hope that three weeks in the saddle will be just as painless.
I'm looking forward to our run up to
Glencarron Lodge and back
in April and the prospect of doing a tour over the
Bealach na Ba to Applecross, Shieldaig, Kinlochewe and Achnasheen
and/or over the
Rattagan pass to Glenelg, ferry to Skye, back over the bridge then via Plockton to the lodge
+
. The main reason in going to Glencarron is to climb Slioch to reduce my outstanding Munros for my second round down to 20. Progress to compleation (sic) has been much reduced lately due to cycling instead of walking but maybe once this ride is done I will be able to make some more progress on the hills. I hope to update these pages as things progress.

* 13/4/11
+ The details from these rides are now on the training days page.
Addendum: The new chainset was better but the 34T bottom gear on the 8 speed casette was a pain to change down to as it was such a big jump up from the one below. I now have an 11-32T casette with more even gaps but that gave me a higher bottom gear. To compensate I now have a 24T inner ring up front. The 1:0.75 bottom gear proved to be very useful on several sections of the trip and even when I didn't need it it was good to know that it was there if it was needed. On the practice trips and my commute I worked to increase my cadence quite a lot so I was able to spin low gears up hill for long periods which was much easier. The training runs proved their worth in sorting out details like that. I'm not sure they were so necessary from the fitness point of view as the climbing on my commute is quite substantial and done 5 days most weeks it gives a very good base to work from.