Day 8. Sunday, 05/06/2011: Pen-y-Pass to Snowdon to Pen-y-Pass
Actual walking distance 12km. Ascent 1018m. Total walking distance 12km. Total ascent 1018m.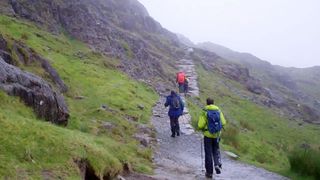 There was a bit of a split in the ranks concerning the route to take for Snowdon. Ron wanted to just go up the Pyg track whereas I had set my sights on the Crib Goch route. Neil was piggy in the middle but eventually decided to go up the Crib Goch route with me. We started with waterproofs on but the rain stopped fairly soon after.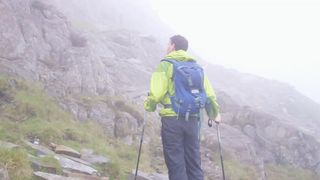 The scrambling up and along Crib Goch was quite straightforward with lovely jug handholds everywhere they were needed. The description I had read of the route did not really indicate how much of it was serious scrambling and in the mist it was not possible to see more than about 50 m ahead to see what was coming next or for how much longer.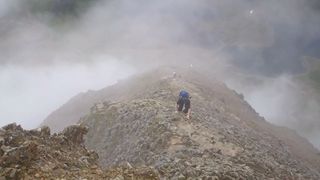 On the left-hand side there was an avoiding path in places and on the right hand side there was just fresh air so I kept to the top of the ridge for almost all of the way as in many ways this was the easiest option. Towards the end of the scrambling for mist started to break up and we had glimpses along the ridge and over towards the summit of Snowdon but it still was not possible to see what was between us and the summit.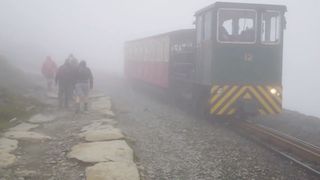 After Crib Goch the ridge broadened out for a bit but then it was back to scrambling again to get to trig point that the top of Crib-y-Ddysgl. A couple of hundred metres later the ridge curved around until it met the railway line which we followed up to the summit. As we were organising someone to take our photograph Ron appeared from the cafe so we have a full team photo of us on the summit.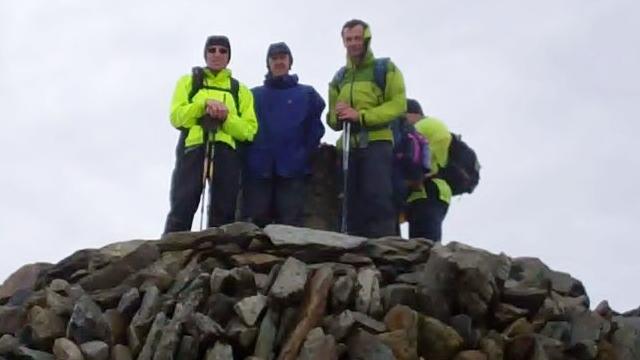 We celebrated our success with tea, coffee and cakes and while we were having these the mist lifted completely. We completed the Snowdon horseshoe by following the ridge over Y Lliwedd and then the Miners Track down past Llyn Llydaw and Llyn Teyrn to the youth hostel. It was a pity about the rain and mist in the morning but the views in the afternoon were absolutely magnificent. Snowdon is a wonderful mountain.