Day 9. Monday, 06/06/2011: Pen-y-Pass to Cotton Farm
Actual riding distance 134km. Ascent 313m. Total distance 912km. Total ascent 10200m.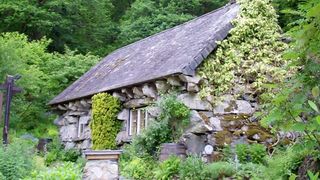 We woke to a cold grey morning. It was not raining but it looked very much like it could do any time. Our route took us down the main road to Betws-y-Coed and then along the minor road on the West side of the Conwy.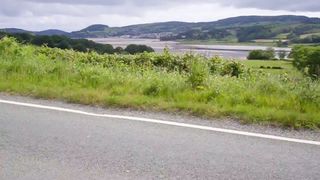 It was certainly downhill all the way to the junction with the A 5 and then almost all downhill to Betws-y-Coed. We turned off onto the B 5106 imagining that this would also be downhill all the way to Conwy but we were sadly mistaken. Betws-y-Coed is at about 20 m above sea level but on the way down to Conwy we were up at over 70 m in a couple of places.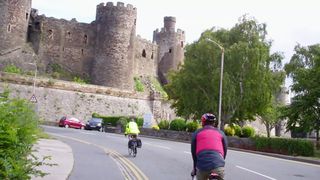 We would probably have been fine on the A 470 on the other side of the river judging by the small amount of traffic noise coming across to us. Our approach into Conwy took us right past the magnificent castle and we made our morning coffee stop in a little cafe nearby. From Conwy our route did a lot of wriggling around to get out to the coast at Penrhyn Bay.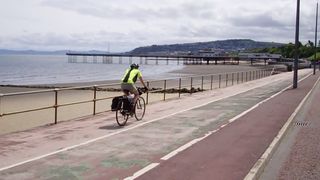 From there we had a mixture of heaven and hell: heaven as the wind was behind us and hell because of the holiday developments along much of this coastline. At one stage it looked like we were going past an African township as all we could see to our right were the roofs of thousands of caravans tightly packed together. It is difficult to imagine how anyone could get pleasure from being in such a place.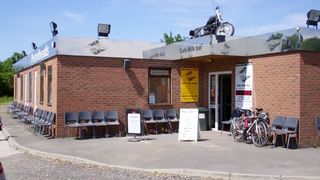 The cycle track though was an absolute delight for most of the way. In some areas a completely new track had been built as part of major sea defence work and it was smooth and level. In the distance we could see the English coast getting closer and closer. We had opted to take the old A 55 rather than follow the NCN route into the Flint hills. This should have had two benefits; less hills and more opportunity to pass through places that had opportunities to eat at lunchtime.
Alas our plans went a bit awry as every pub we passed was not doing any food despite signs outside advertising the fact. We eventually found a milk bar in Mostyn suggested by a couple of locals that was open and was serving food. It was definitely a motorbike themed establishment with a waitress who had a fixation on Fleetwood Mac as that was the only music that played while we were there.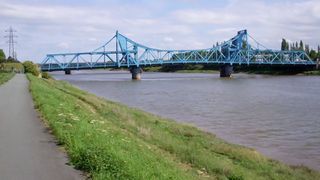 The lunch was great and helped morale. We approached Chester along the cycle route along the Dee past a variety of bridges including a rather splendid double bascule bridge. We made it into the centre and after standing around looking puzzled were guided by a local to the way down to the towpath of the Shropshire canal which we followed for quite some distance.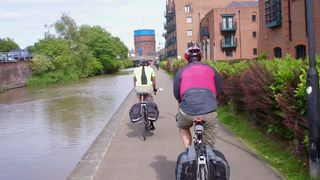 As we left the city we left the canal and made our way along quiet roads to
Cotton Farm
. If I was asked to sum up this B&B in one word I would use the word delightful. Sherry on the dressing table, a lift to and from the nearest pub from our charming hostess made this a great stay. After the sleepless nights in Pen-y-Pass youth hostel this place was absolute luxury. The breakfast was also amazing and kept us going for quite a long time.