Day 7. Saturday, 04/06/2011: Machynlleth to Pen-y-Pass
Actual riding distance 101km. Ascent 2121m. Total distance 778km. Total ascent 9887m.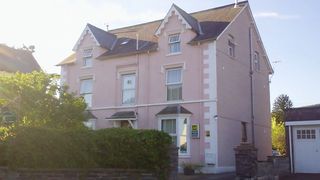 Another day of ups and downs. From Machynlleth we followed a valley north before turning north-east towards Aberllefenni. This was an old slate mining village that still has a merchant dealing in various forms of slate. On leaving the village there was a long length of slate fencing which obviously used up the pieces of slate that were no good for anything else.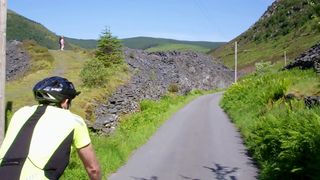 The road climbed relentlessly and in some places quite steeply until we came to a sign that suggested the road was not suitable for caravans. The section of the road was properly surfaced but I think the ordnance survey was either trying to save ink or else the surveyor never visited this section because there were no arrows to indicate steep gradients at all on this section.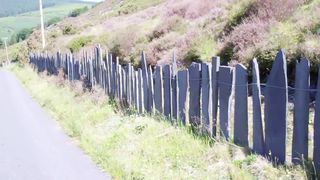 It was a tough climb before eventually the gradient eased off and we reached the 400 meter plus summit. The view towards the North was very fine with Cadair Idris fairly close by and Snowdon in the distance. I videoed a bit of the descent and had just pressed the button to stop recording when a kite took off from a ditch at the side of the road a very short distance in front of me.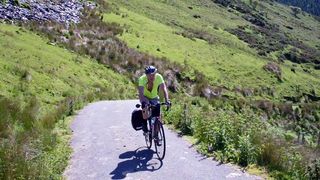 The clip has just the first couple of flaps of the bird as it took off. Very disappointing. We crossed one of the main roads in the area and took to another track, rough in places, that took us over another small hill to Dolgellau. Here we found a cafe in what was a prison built in the 1600s. All the old beams supporting the floor were exposed inside and there was a carved frieze that depicted many of the ways in which the inmates met their fate.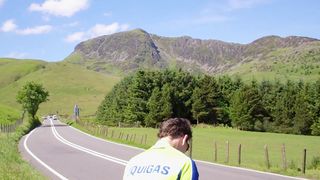 From Dolgellau we followed our alternative route which came as rather a shock to Neil as there were many arrows on the map and these were mostly against us. The scenery had changed from what we were seeing in the Wye Valley a few days before. The broadleafed trees had given way to conifers in the valleys and the uplands were much more rugged. Our route took us up to over 330 m with some very stiff climbs before we made a descent to Trawsfynydd. This is a town that does not seem to have much going for it.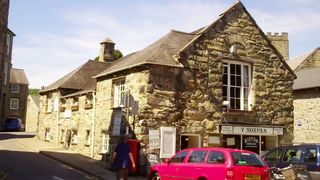 There was one shop that was still open and one pub that did not do food. There were many houses for sale and many houses that were in need of some serious repair. It is also home to Britain's only inland nuclear power station and it was at the old visitor centre that we managed to find something to eat. Leaving the cafe the cycle route took us close by the power station along a track that was somewhat arboreal in places. Even on my bike this was not particularly pleasant and it would have been much easier and quicker to have stayed on the A470/A487.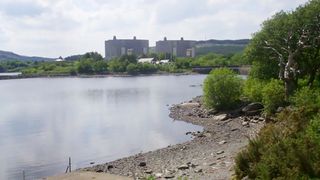 We descended almost to sea level at Tan-y-Bwlch before climbing up some very steep sections of road past the station on the Ffestiniog Railway and then descending almost to sea level again at Garreg. From here the road climbed up through the Aberglaslyn pass to Beddgelert alongside the recently reconstructed Welsh Highland Railway.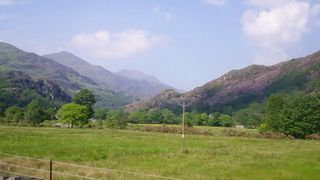 Ron had decided that he was quite happy to plug away slowly on his own up the rest of the way to Pen-y-Pass so Neil and I went on ahead. Turning left instead of right in Beddgelert was not a good idea and we had travelled three miles before we realised that we were looking at the wrong side of Snowdon. The 3 miles back to Beddgelert were quite quick as they were all downhill but in the heat of the day wasting the effort in the climb was not ideal as there was still 320 m of climbing to do. We had to call in to the Pen-y-Gwryd hotel to take on liquids before the final section up to Pen-y-Pass.