Day 16. Monday, 13/06/2011: Glenmore Country House to Fort William
Actual riding distance 106km. Ascent 960m. Total distance 1697km. Total ascent 15299m.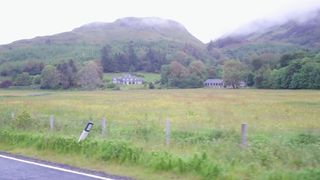 It was raining while we were eating breakfast and it looked like it was settled in for a while. By the time we were ready to leave it had dropped back to a fine drizzle so waterproofs were donned. No gentle start here as we had to climb up to 150m almost straight away. At the top of the climb is a hydro scheme reservoir that Ron's Dad had supervised the construction of. A picture stop was made here before we set off downhill to Loch Feochan.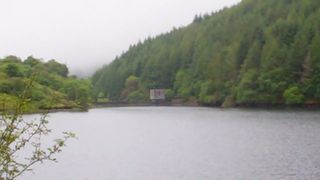 At Kilmore we turned right and took the single track with passing places Oban bypass to Connel bridge. We looked for a suitable coffee stop but as none were evident on the south side crossed the bridge to have a look on the north side. A small hotel was able to provide us with tea, coffee and shortbread to keep us going for the next stage.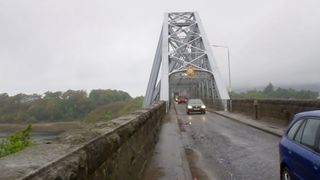 The tide was racing out under the bridge over the Falls of Lora. This narrow waterway connects Loch Etive to the sea and the tide rips up and down through this gap four times a day. It was a very impressive sight and certainly not a place to go swimming!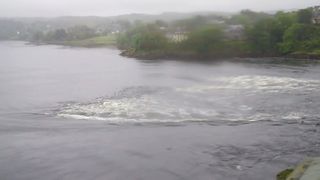 From Connel we headed north towards Balachullish. The Sustrans website had shown bits of cycle track along this stretch but we were delighted to find many stretches of brand new cycle track.It was all due to open Spring 2011 but I guess the winter weather made for a lot of down time. The works were extensive along the old Balachullish railway and along the main road.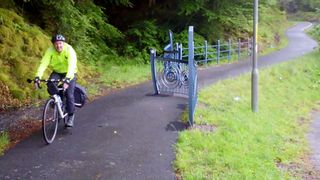 Road bridges had been widened, rock cut and trees trimmed to make space for the track. I can quite imagine that we were among the very first to travel on some sections of this route. When it is finished it will be a wonderful asset and get bikes away from the busy main road.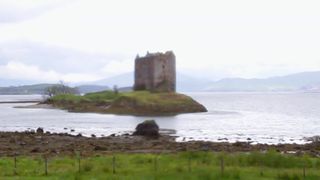 On one section we passed Castle Stalker that is normally fleetingly seen from high up on the bend of the main road. Now at sea level the view is quite different. We met a lady whose daughter had been married in the castle the day before and had had their reception in a marquee nearby. The lorry taking the marquee away was blocking the track but we managed to get past by removing our panniers. They had had a wonderful day until they realised that the wedding certificate had vanished. Bins had been searched, rubbish sorted through but still no sign. I hope by now they have found it.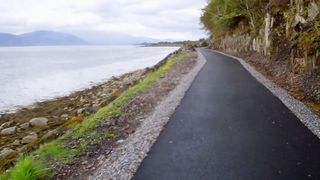 One section of the cycle track was right on the coast. This will be an exciting bit to travel on when a strong south westerly is driving waves against the rocks below.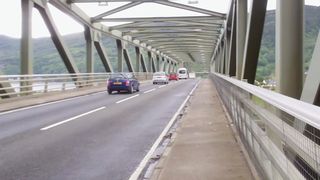 We finally came off the track on the approach to Balachullish bridge. It was difficult to work out which road we were on as the signing had not been installed but as we didn't want to go to Oban or Glasgow we realised we were on the Fort William road. It was now half past one so we needed to find somewhere to have lunch.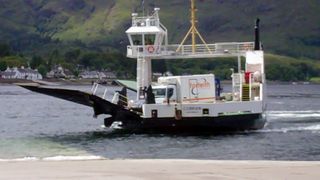 The Art gallery north of the bridge was closed on Mondays but the Hotel nearby was open and provided us with a splendid lunch. We were now getting towards a tight time schedule as we had a ferry to catch to allow us to get up Loch Linnie to catch another small ferry back to Fort William. The timing worked out fine and we arrived at Camusnagaul with time to spare to find the seven Yorkshire potholers who we had met in Somerset at the beginning of the trip.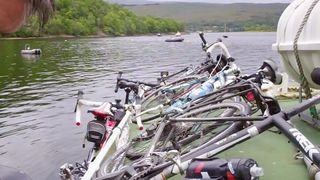 Right on time the little boat appeared to the collection of 10 bikes and about 15 passengers. The bikes were arranged on the roof of the cabin and tied on along the sides. They said they had managed 13 bikes before but it was not obvious where any more bikes could go.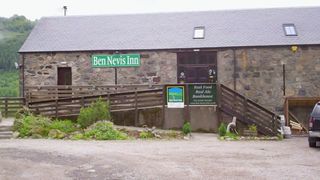 As Neil wanted to get some things in Fort William Ron went on to check us in. He phoned to ask us to get some things for breakfast and packed lunch for our hill walk next day. It would be fair to say our panniers were well filled for the trip from Fort William to the bunkhouse.