Day 18. 17/6/2014. Cycle Balloch to Comer. Walk Ben Lomond (southery Munro). Cycle to Dunblane. Distance cycled 93.0km. Ascent 1076m. Cumulative distance cycled 1915.6km. Cumulative ascent 17814m. Walked 5.7km. Climbed 777m. Cumulative walked 54.5km. Cumulative climbed 3549m.
Eighth and final objective achieved today. Most southerly Munro on Scottish mainland.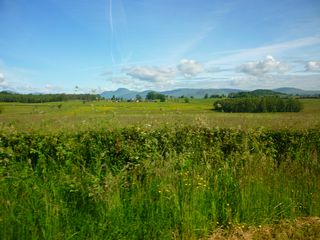 Another day of three parts. The two cycle parts to and from Comer, from where I climbed Ben Lomond are almost exactly the same distance as each other. From Balloch there were a couple of small hills to go over but from Drymen there is climb of just over 200m to get over to Aberfoyle for morning coffee. I was quite surprised after uploading my ride to Ride With GPS to find that I wasn't the slowest recorded for that climb albeit I took nearly 80% longer than the fastest!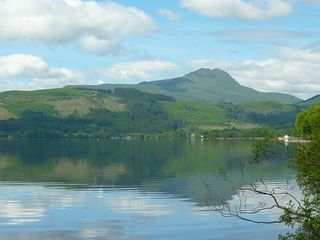 After the break, Neil set himself up in the cafe to read through more of the PhD thesis he was looking over while I organised myself for my final Munro of the trip. It was still 17km away of which 7km were on rough forest tracks. It's a good job that Neil was not with me as he would almost certainly have had damage to his wheels of one sort or another if he had tried to cycle on the tracks.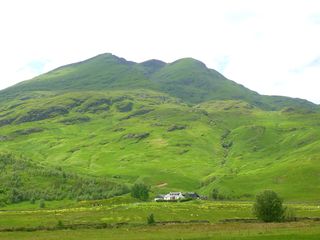 There are some signs just before the farm saying that there is no access to Ben Lomond from the farm. This is due to inquisitive walkers peering in through the farmhouse windows and a couple of cases of walkers lifting the very well behaved farm dogs and taking them up the hill! Difficult to believe but it is just amazing how little respect some people have for others. From the bridge just before the farm it is possible to avoid the farm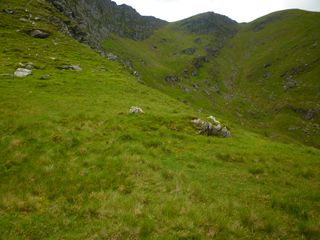 yard and make a way up the hill. From here the climb up Ben Lomond is quite short and sharp. I was up in 72 mins and down in under 60. Not the respect the hill deserves but time was against us again. Ben Lomond also counted as another tick for the second round. Only 11 left now.
By the time I returned to Liz MacGregor's Coffee Shop in Aberfoyle they were putting the chairs up on the tables so all I was able to get was a huge slice of their very good carrot cake. Definitely cyclist sized slices. From Aberfoyle we followed quite a busy road to Thornhill, Doune and then finally arriving at Pam and Joe's in Dunblane.