Day 16. 15/6/2014. Cycle Glenluce to Mull of Galloway (southerly point) to Garryloop. Distance cycled 125.0km. Ascent 1124m. Cumulative distance cycled 1690.3km. Cumulative ascent 16098m.
Seventh objective achieved today. Most southerly point on Scottish mainland.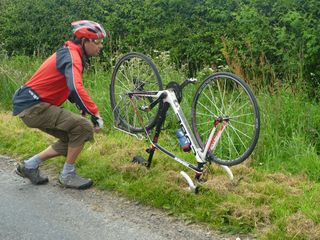 As it was a there and back start to the day to get to our southerly point we were able to leave our panniers at our B&B and collect them on our return. Conditions were good with little wind and light cloud although the air was cool to begin with. We made good speed down so far but then as we turned off the A716 Neil had his third puncture of the trip after going over a stone on the road.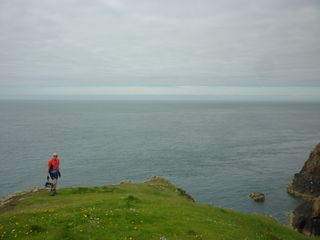 It was fixed fairly quickly but soon after I realised that my GPS, following an out and back route, had decided to miss out the important part of the trip and was routing us back to Glenluce. This was corrected in time before we had gone too far off course but it was the reason for the big loop in the route above Drummore.
Arriving at the nearest point on the road to the most southerly point we left the bikes and walked over the fields to the edge of the cliff where we located the most southerly point (at least the most southerly point I was prepared to stand on). Morning coffee was taken at the Visitor Centre near the lighthouse. On the way back we passed a road sign that had been amended a little. It's a good job we didn't meet one of those horses on the narrow single track road.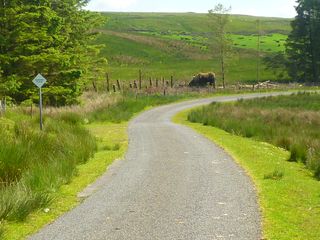 On the way down we had come around a bend to be presented with the sight of a giant highland cow grazing in some woods by the roadside. As it was on a good bit of descent we were reluctant to stop and in any case were past the point where a good photo of the beast could be taken. This was duly done on the return. Again it's not an animal to meet on these narrow roads.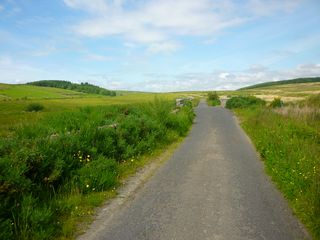 The road went through some quite wild country where you might be stuck for a long time if something went wrong. As we noted yesterday the standard of the roads in South Ayrshire and in this hill road in particular was quite dire.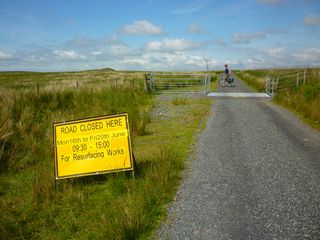 We were surprised to find that works were planned to be carried out on it as although it was bad and needed repair there were many stretches of more important roads that were in an equally horrid state. The situation up there was not being helped by large scale tree harvesting operations being carried out with big lorries taking the logs out along this inadequate road. No doubt we will travel more of these substandard roads tomorrow as we retrace our steps into Ayr on our route north.