Day 3. 2/6/2014. Cycle Cruden Bay to Keith Inch, Peterhead (easterly point) to Elgin. Distance cycled 145.9km. Ascent 1274m. Cumulative distance cycled 353.9km. Cumulative ascent 2899m.
Second objective achieved today. Most easterly point on Scottish mainland (but see below).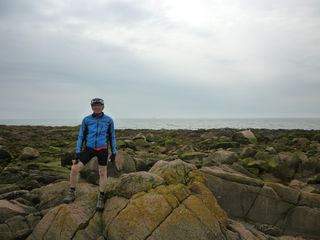 The day started with a short cycle northeast from Cruden bay on what looked on the map as a quiet back road. Unfortunately the southern section of this road was the only access to a major land fill site with numerous skip lorries passing us in both directions. At least there was no other traffic to make things difficult.
Once at the Peterhead by-pass cycle tracks at the road side allowed us to get into the centre where we followed quiet back streets to the most easterly point of the journey at Peterhead.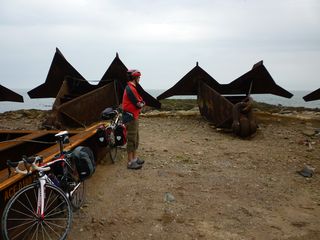 I had seen the location on Street view but Neil had quite a shock as to get there one has to get through ASCO's offshore yard. It's not a pretty sight or site to say the least. According to several websites we were at the right place but Kirk Inch was an island that has been joined to the mainland by a causeway. Does that make it part of the mainland? Just in case we went to what was the most easterly point before Keith Inch was connected to the mainland along The Esplanade.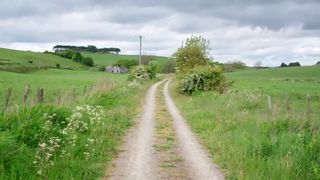 Out of Peterhead we followed the Formartine and Buchan Way, another old railway line, that started as tarmac, degraded to a stone track then degraded further to a two strip stone track. At Mintlaw there was a sign on a bridge over the railway that informed us of the presence of a cafe in the Happy Plant garden centre just off the line so the opportunity was taken for a break. It was not quick on the worst bits of the rail track as there were loose stones and the grass in the middle to avoid.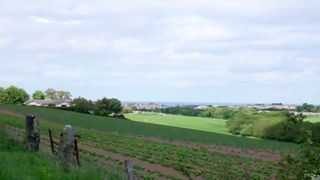 Another slight detour off our route took us to our lunch stop at a new cafe in the High Street in Turriff. They had a great selection of cakes and did good other food as well. We had set off from the cafe when I suddenly realised we hadn't paid. There had been two people serving us and each thought the other had taken our money. Needless to say they were pleased I had returned to pay the bill. It took a long time to get to see the sea at the Moray coast but when we did we were along it for most of the rest of the way to Elgin. Quite a bit of this was along the old railway line which again was good in parts but not good for Neil's narrow tyres for most of it.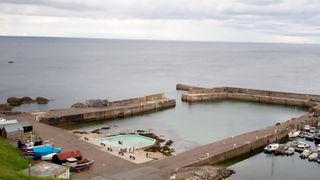 Yet another detour off our route took us into Cullen in search of a tea stop. All that seemed to be available was tea in a room off the local Fish and Chip shop. If one wanted anything to eat it had to come out of the fryer. I had a flapjack bar in my bag that saved the day. The viaduct over the River Spey was a very impressive piece of construction that has been pressed back into service for the cycle route. Just like the Meldon viaduct in Devon that we cycled over on the LEJOG trip it makes one wonder where the finance will come from for these structures to be maintained and inspected in the long term.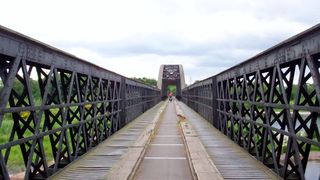 We had a later than desired arrival in Elgin but this was attributable to the slower going on the rougher railway sections and a hiccup in my GPS routing after Maud (the dog leg between Mintlaw and Turriff on the map below). I have no idea what it was doing as there were no way points it was trying to navigate to. In planning our route I had deliberately taken us off NCN routes in places where it appeared that a shorter route would be suitable so I was not surprised when the GPS indicated we turned off the NCN route we were following. Unfortunately it did add a few kilometres to what was already quite a long day.