Day 10. 9/6/2014. Cycle Shieldaig to Armadale. Distance cycled 99.7km. Ascent 1146m. Cumulative distance cycled 1162.5km. Cumulative ascent 11020m.
Passed the halfway point today in time terms and more than that in distance terms. A similar day to yesterday weather wise as it started warm and dry, was then quite sunny then turned to isolated heavy showers in the afternoon. Another day of ups and downs as we make our way onto Skye to get the ferry to Mallaig. A bit longer day than intended as a detour into Plockton for lunch took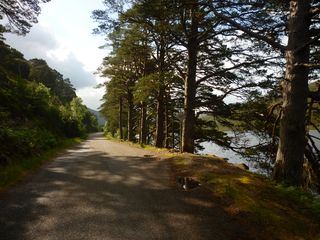 it to just under 100km.
From Shieldaig we set off southeastwards first by the sea, then Loch Dughaill then up Glen Shieldaig to our first high point of 130m before dropping down to sea level again at Tornapress. The view to the right on the descent was dominated by Beinn Bhan with its complex of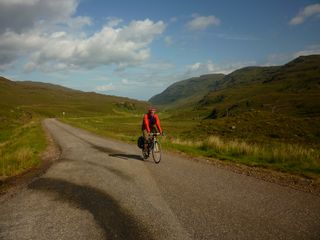 corries on its northeast face. It is a magnificent mountain from this side with its layers of Torridonian sandstone. From the summit of the Bealach na Ba to the west it looks quite boring in comparison.
Two cyclists that we had come up the glen with turned off at Tornapress to go back via Bealach na Ba. It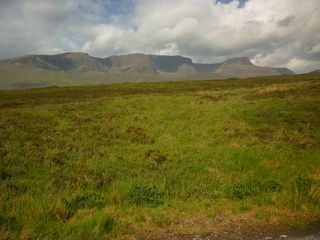 is a magnificent trip on a good day and quite a work out as the road rises to well over 600m in about 10km. The ride down the other side is exciting to say the least as there are several bits where the road is 1 in 7 or steeper. Unfortunately or perhaps fortunately as we were carrying luggage our route did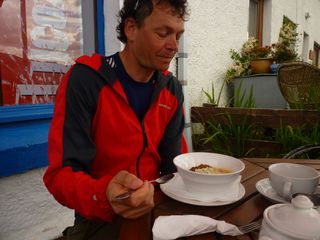 not go that way but over a much smaller hill at 120m that then descended to Lochcarron where we stopped for our morning break.
Neil is never able to eat a big breakfast so he took the opportunity of having a second one here although his choice of rhubarb crumble was quite unusual. There were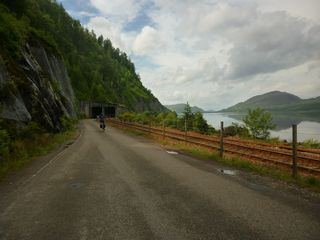 plenty of calories in it at least.
Sitting outside we could see the traffic on the south side of the loch alternating between sea level and quite a long way up the hillside. Unfortunately the bits of road that join these two levels together are very steep as we were to confirm quite soon. I had cycled it
both ways before but not on a loaded bike. At least today was not going to be a long ride so energy supplies could be used as necessary. Part way along this section the road and railway pass through an avalanche shelter to protect them from the not infrequent problems of land slides and falling rocks. This is the section of road that has been closed a couple of times in the recent past and has necessitated a 140 mile detour as a result!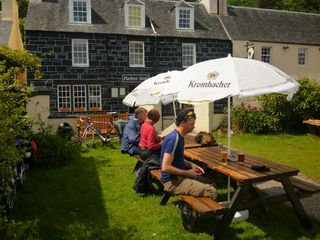 With a choice of eating in Kyle or Plockton and with the sun blazing down and reasonable time to spare with the Mallaig ferry it was Plockton that won. Sitting in the sun in the beer garden over the road from the Plockton Hotel was really rather nice as was the food. Unfortunately the detour added not just distance but another 30+m of ascent but it was more pleasant than anywhere in Kyle would have been.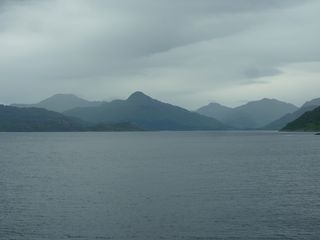 Our route took us over the Skye bridge to Skulamus then left to Ardvasar. This was really a case of shut up and keep pedalling as there was quite a bit of traffic around so the sooner it was over with the better. We stopped at the cafe at Armadale castle for afternoon tea and while we were there the heavens opened so we had to get the waterproofs on to cycle to the ferry. There we met a Swiss couple who were taking a year out to cycle around nice places. Next they were off to Iceland the Sweden, Norway and Finland. They were camping though and had quite heavy trailers to tow with all their kit. On the way over to Mallaig, Ladhar Bheinn, my goal for tomorrow could be seen with patches of snow still near its summit. It did look a long way away.