Day 11. 10/6/2014. Ferry to Inverie. Walk Ladhar Bheinn (westerly Munro). Walked 21.7km. Climbed 1131m. Cumulative walked 46.0km. Cumulative climbed 2717m.
Fifth objective achieved today. Most westerly Munro on Scottish Mainland.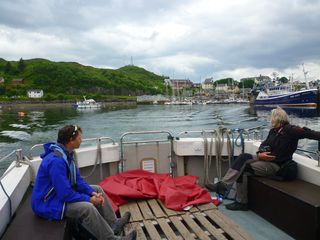 No cycling today. First was the 9.30 ferry to Inverie and what a treat that was. Half way there the boat swung around and the captain pointed out a school of dolphin that he endeavoured to get us close to (see the squiggles in Sandaig bay in the map below).
Click here to see some of them make great leaps out of the water.
A group of four kayakers appeared around the headland and they had great views of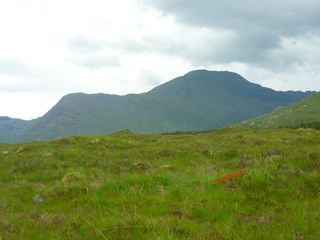 what was going on. Not much paddling was done as they were all using their cameras to record their close encounter as the dolphins were swimming and jumping very close to their craft. As a result of the diversion we arrived in Inverie 10 mins after the boat should have left on the return journey but I wasn't going to complain.
Once ashore we walked over to our B&B and I changed into my walking gear for the ascent of Ladhar Bheinn,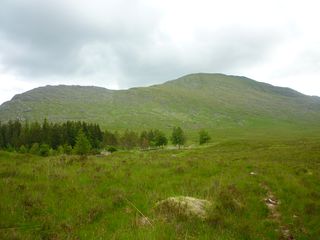 the most westerly Munro on the mainland. There were some odd showers passing through so I took my waterproofs just in case. A long walk in over the shoulder of the hill behind Inverie took me to the foot of Ladhar Bheinn but at only 80m above sea level so there was still 940m of ascent left to do.
Part way up I met an English couple descending who said they had had fantastic views at the top so I was looking forward to having the same conditions for my own summiting. It also reminded me of a recent conversation with someone who said that they had found Ladhar Bheinn to be a boring hill. I guess doing the Inverie approach in the rain and cloud could make it so but having climbed it from the north on a previous trip I found it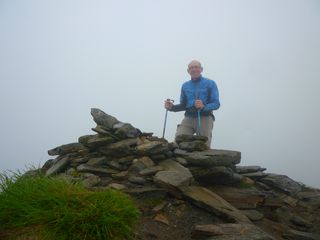 anything but. It is another truly spectacular mountain, easily ranking alongside An Teallach and Liathach.
As I was nearing the summit I could see the other big hills around getting enveloped by cloud and I could see the rain falling. Despite my best efforts there was no way I could get to the top before the weather so there would be no view of the spectacular north side of the mountain. I took a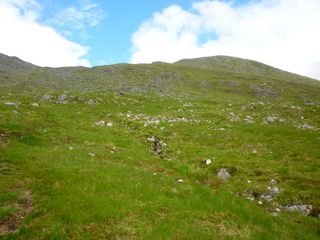 couple of photos at the summit and turned to descend as it was cold and wet and the visibility was very poor. Full waterproofs were donned but as often happens after about 20 mins of descent the sky cleared, the rain stopped and the sun came out on the top. I was too far down by then to go back up so I had to content myself with the fact that I had seen the view on my first trip there. My other consolation was that I was able to tick this on off on my second round of Munros list. Only 12 to go now.