Day 8. 7/6/2014. Cycle Lairg to Dundonnell. Distance cycled 117.0km. Ascent 1265m. Cumulative distance cycled 958.3km. Cumulative ascent 8648m.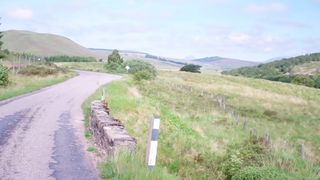 As predicted today was the most dramatic scenery that the trip passed through and to cap it all the weather was really good for most of the time. The scenery is quite mountainous for the next few days as we pass through OS sheets 15, 19, 20, 25 and 33: the ones that contain a vast array of notable Munros and Corbetts.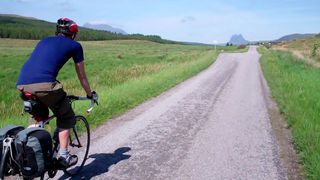 Leaving Lairg the sun decided to make an appearance so it was time to apply the sun screen at last. From Lairg the road climbs up to 186m before dropping back to just 13m at Rosehall where it crosses the River Cassley. It then follows the Oykel for quite some distance, climbing to the watershed at 178m before dropping slightly as the road passes Loch Borralanback. Beside the loch is the Altnacealgach Hotel at the lochside that I had identified as our coffee stop but unfortunately it did not open for non-residents until midday.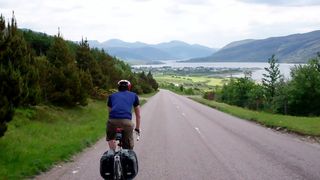 There is a cafe/craft shop at Elphin so we pressed onwards to there for our stop. The views to the west from the A835 are quite spectacular with the isolated mountains of Canisp, Sulivan, Cul Mor, Cul Beag, Stac Pollaidh and Ben More Coigach rising from the ice age scoured 3.5 billion year old gneiss bedrock.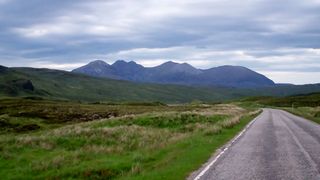 To the east Knockan Crag shows the western limits of the
Moine thrust
: a spectacular geological feature where, about 420 million years ago, rocks that used be be well to the east were pushed many tens of kilometres up and over the Cambrian sedimentary rocks and their basement, into their present position.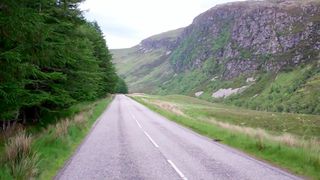 After Elphin a succession of smaller climbs and drops lead to Ullapool where we had lunch on the terrace of The Seaforth. From Ullapool the road follows the east shore of Loch Broom so almost sea level before the climbing starts, first to Braemore Junction, then to 332m as it passes by the western Fannaichs along
Destitution Road
. Again the mountain scenery is spectacular with An Teallach taking the prize although the increasing cloud cover did not do the scenery the justice it deserved.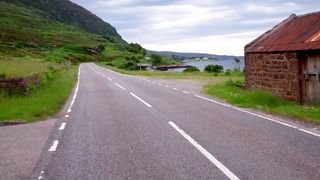 From the summit a couple of steep descents takes it back to sea level at Dundonnell. There were many cars parked at Corrie Hallie where a track leads in to An Teallach, Shenavall Bothy and the Fisherfield hills with many walkers either ending their walks or possibly starting their walk in to Shenavall. Our B&B was at Camusnagaul so as Neil was not in favour of cycling to dinner we had a 2km walk each way to get dinner. That was not so convenient when it decided to rain for the journey back! During dinner Neil spotted a sea eagle quite close to the hotel that must have just had a go at fishing and was rising back up to head off home.