WaterAid's Trail 100 Challenge
WaterAid has organised outdoor walking events for many years. Their early events in Scotland were their bi-annual Munro Challenges where they hoped to get teams of 4 or more onto the top of every Munro between the hours of 12 and 2. The difficulties of getting enough people into the right places made this quite difficult to fully achieve.
Trail magazine published a list
of, in their view, the 100 best outings spread across England, Scotland and Wales. There are 38 trails in England (16 moderate, 22 difficult), 39 trails in Scotland (5 moderate. 19 difficult and 15 severe) and 23 in Wales (6 moderate and 17 difficult) and this was chosen as WaterAid's major summer outdoor event in 2008. Unfortunately WaterAid did not get sufficient teams for this challenge that year but they did succeed with it in 2009.
Why we chose A'Mhaighdean
Trail's description of the route says "The most remote of the Munros is secreted within a cauldron of peaks that make up the Letterewe Forest, and it's said that the view from its summit is the finest from any Scottish peak. It's a big expedition to get into this area – nicknamed the Great Wilderness – so a wild camp, competence and determination are all necessities if you want it this one in the bag. Which, as soon as you see it's impressive profile, you will." WaterAid gave the trail a severe rating on account of the length of any route to it and the difficulty of getting help in the event of an incident.
I had done A'Mhaighdean twice already and had rain the first time and
mist and cloud after heavy showers
the second time so I wanted another chance to get there in better weather. Pam was collecting Corbetts and wanted to do Beinn Airigh Charr, Beinn a Chaisgein Mor and Beinn Lair that are in the vicinity of A'Mhaighdean so it was an ideal opportunity for her to get in to the area and have some support. It's a long walk in so doing more than one of the Corbetts in a day trip is quite difficult. Pam, Mary, Neil and Mark had all done A'Mhaighdean with me before and hadn't seen the view at its best. Mary had also started collecting Corbetts so it was doubly useful for her. For David this was his first time.
A'Mhaighdean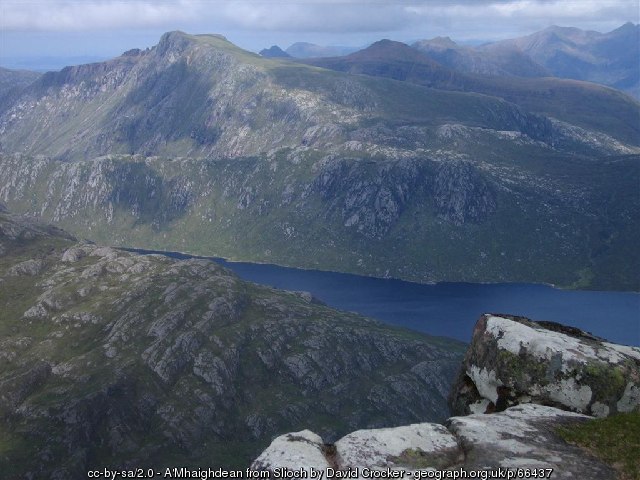 A'Mhaighdean means the maiden or more aptly the virgin. I have seen various phonetic versions of its name but the one that seems closest is "ah-vye-jun". You can try the comparison with the spoken version given on walkhighland's website by
clicking this link
. It is my favourite of all the 282 Munros and I named my sailing dingy after it. It caused no end of problems for race officers who wanted to give names rather than refer to sail numbers on results sheets.